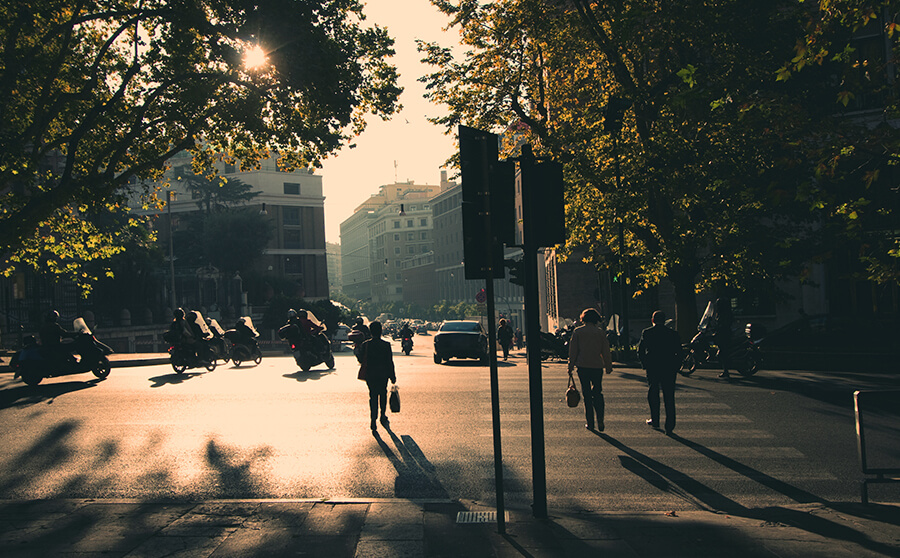 Safe and clean
Keeping our air safe and clean by reducing pollution is one of the key roles of government at European and international levels.
Solvents in products such as coatings, inks, and consumer products can emit substances into the air known as Volatile Organic Compounds (VOCs). VOC emissions from solvent-based products are regulated to protect air quality.
The European Solvents industry has shown continuous commitment to improve air quality by contributing to the reduction of  total VOC emissions in the EU by more than 60% since 1990.
Our industry complies with EU legislation on VOC emissions. As part of their commitment to Responsible Care, ESIG members often go beyond these regulations to protect air quality.
Volatile Organic Compounds (VOCs) are both man-made such as from vehicle emissions and power plants, or the result of natural emissions from trees and plants.
VOCs contribute to ground-level ozone in the presence of sunlight and nitrogen oxides (NOx). Ozone peaks primarily occur in summer, downwind of large urban areas.
Esig inventory
ESIG leads research to proactively document the decrease in VOC emissions from solvents based on sales data in EU Member States. Data from this research is compiled into what is known as the ESIG Inventory.
Inventory data has revealed that VOC emissions from the solvent sector have been generally over-estimated.
Insights like this help lawmakers to make evidence-based policies using actual emissions data. The Inventory also helps Member States to meet VOC regulatory requirements under the National Emission Ceilings Directive.
Inventory results are supported by the European Monitoring and Evaluation Programme (EMEP), the International Institute for Applied Systems Analysis (IIASA), leading European experts and officials in EU Member States.
Facts
Human-made VOCs declined by 60% since 1990.
On average half as much solvent is used in manufacturing today compared to 1980.
Controlling Solvents in the air
Since most organic solvents rapidly biodegrade and have relatively low eco-toxicity, they do not persist in the environment. We can further control emissions from solvents through incineration and recycling.
Industry has also developed specialised technology to reduce VOC emissions. Booths that spray paint on cars, for example, can reduce VOC emissions by 30-50% according to the European Automobile Manufacturers Association (ACEA).
The use of recuperative or regenerative oxidisers in coil coating installations also reduces VOC emissions by as much as 50% compared to traditional thermal oxidisers (ECCA).
Research and innovation
The solvents industry has made important changes to its products and processes to protect air quality. ESIG members continue to invest in research and innovation to realise further improvements. Today, our members are:
Creating new formulas with low-ozone forming potential that do not compromise performance;
Researching ozone formation and promoting efficient solutions such as abatement techniques;
Working with EU and national regulators to encourage the industry to develop new products that meet sustainability targets without compromising performance.
Ozone Modelling
The Solvents Industry is committed to the improvement of air quality in Europe, and has been closely following scientific developments on air pollution. In 2006 ESIG commissioned two models and examined the results of a third independent model to project ozone levels following certain VOC regulatory measures. The three models and the major findings are described below.
Chimere Model developed by L'Institut National de l'Environnement Industriel et des Risques (INERIS) and used in French Government scenarios.
LOTOSEUROS Model developed by Nederlandse Organisatie voor Toegepast-Natuurwetenschappelijk Onderzoek (TNO) in the Netherlands.
Harwell Trajectory Model developed independently by Professor Richard Derwent and used to evaluate European ground-level ozone trends from 1990-2008.
Both the INERIS and TNO models showed that once current legislation is fully implemented, further reductions in VOCs emissions will not significantly reduce ozone. Legislators and industry should therefore focus on implementing existing legislation rather than introducing additional VOC legislation.
The Harwell model showed that the solvents industry has substantially contributed to reducing ground-level ozone. The Solvents Emissions Directive has also had a significant positive impact on air quality.
ESIG supports the recently revised National Emission Ceilings Directive (NECD), which sets out emission reduction targets for 2020 and 2030 consistent with the Gothenburg Protocol. Modern solvents can extend the life of materials used in everything from cars to bridges, which is why ESIG believes that further VOC restrictions will negatively impact the sustainability and efficiency of solvents. Emission reduction measures should be pragmatic in terms of costs and technical feasibility while ensuring clear environmental benefits.
Ozone SOMO35 Delta in % from 01/01/1997 to 31/12/1997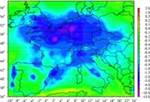 Aromatics emissions replaced (by a mixture (50/50) of n-butyl acetate and methyl-heptate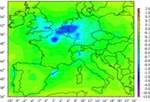 Xylene emissions replaced mixture (50/50) of n-butyl acetate and methyl-heptate
340kT removed across all solvents