ESIG Newsflash: Register to our next Solvents Training Course in October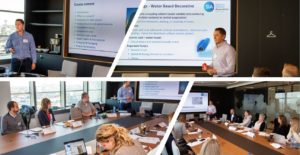 After a successful course in May, we are opening the registration to the next session in October!
Twice a year, together with the UK-based Solvents Industry Association (SIA), ESIG is organising training sessions on solvents for its members and stakeholders.
The training consists of two parts spread over two days:
DAY 1: 

Introduction to the Solvents Industry

This first training course is an introductory course designed for newcomers in the solvents sector and other professionals looking to 'refresh' their knowledge about solvents. This course is useful to those working in commercial or administrative areas.  The course is purposely kept small to encourage interaction and ensure dynamic discussions.

DAY 2: 

Solvents and their Applications

This training is designed to support the previous 'Introduction to the Solvents Industry' course and is aimed at anyone within the solvents industry who would like to acquire a greater understanding of where solvents are used in the manufacture of everyday items.
The next session will take place in Cefic offices | Brussels (Belgium) on:
11 October 2023 – Introduction to the Solvents Industry
12 October 2023 – Solvents and their Applications
The training is free of charge for ESIG members, a contribution of 250€ per session will be asked to non-ESIG members.
Once registered you will receive confirmation and further information.